2021 GAAR Officers & Directors

Terri Thomas
President


Jenny Viger
President-Elect



Eric Crawford
Vice-President


Kim Bragg
Immediate Past President

2021 Local Directors:

Barbara Sanders 2021
Julie Whitesell 2021
Nora Grimaud 2021 - 2022
Regina Wadsworth 2021 - 2022
Tom Blanchard 2021 - 2023
John Chambers 2021 - 2023


2021 State Directors:


(1 Year Term)




Andrea Bowles Kim Bragg

Gerilyn deLaurentys
Billy Franke Kelly Gates Philip Jones Frank Mears
Janet Robinson Angela Sorapuru-Lopez Tim Turner
Tony Whiteside Lili Youngblood
Four Alternates:
Donatella Armstrong-Key Pam Lightsey
Sherry Sanders Kristen Stouffer

2021 GAAR COMMITTEES
As a member-driven organization, GAAR relies heavily on volunteer committees to guide the
organizations objectives, make recommendations to the Board of Directors, and achieve goals. We
appreciate our dedicated members who serve on GAAR committees and are committed to
our mission.
---
AWARDS & PROGRAMS: Plan and implement memgership programs and faciliate annual awards presented to members of GAAR.
Eric Crawford - Chairperson
Gerilyn deLaurentys Heather Ferrante Teresa McArthur
Carey Miller Susan Salisbury

BUDGET & FINANCE: To promote and ensure the Board's and members absolute adherence to fiduciary duties.
Jenny Viger – Chairperson
Eric Crawford - Vice Chairperson
Tom Blanchard Donatella Armstrong-Key
Teresa McArthur Heather Murray Tim Turner
Tony Whiteside Lili Youngblood

COMMUNITY OUTREACH PROJECTS: To promote and enhance the REALTOR(R) brand by leading and participating in charitable / goodwill projects in the community.
Debbie Franco - Chairperson
Angela Sorapuru-Lopez - Vice Chairperson
Leon Braun Kim Courson Keith Duncan
Candy Gresham Heather Johnson Matt Kelly
Kimberly Price Sonia Salazar Teresa Tiller



EDUCATION & PROFESSIONAL DEVELOPMENT: To plan and promote required and elective educational opportunities to and for REALTORS(R) and board members.
Gloria Marsella - Chairperson
Debra Spencer - Vice Chairperson
Kristi Poss Atkins Sandy Butler Billy Franke
Amanda Hollimon Donna Joyner Jaymie Morris
Diane Smith Faye Smith Henry Wadsworth

GRIEVANCE: To receive ethics complaints and arbitration requests to determine if they warrant a hearing by the Professional Standards Committee.
Ross Trulock - 2021 Chairperson
John Chambers - 2023
Vilma Colon-Oliver - 2021
Kim Courson - 2023
Eric Crawford - 2022
Kelly Gates - 2023
Nora Grimaud - 2021
Janet Robinson - 2022
Dennis Smith - 2021
Ross Trulock - 2022


LEGISLATIVE: To monitor local, state and federal legislative activity affecting private property rights and the real estate industry and keep the members informed.
Tim Turner - Chairperson
Pam Lightsey - Vice Chairperson
Linda Fraser Pat Goodwin Donatella Armstrong-Key
Don Lawrence Kimberly Price


MULTIPLE LISTING SERVICE: To govern the operation of the MLS and to recommend revisions, rules and regulations to the Board of Directors to ensure it remains the most efficient and effective form of sharing information.
Andrea Bowles - 2021 Chairperson
Tom Blanchard - 2023
Pierce Blitch
Brandi Ledford - 2022
Jenny Viger - 2021
Lili Youngblood - 2021
Sherri Melton - 2022


PROFESSIONAL STANDARDS: To serve as the official hearing panel for ethics violations and arbitrable complaints.
Ryan Brashear - 2021 Chairperson
Andrea Bowles - 2021
Kim Bragg - 2023
Philip Jones - 2023
Lula Kanardy - 2022
Frank Mears - 2022
Sherri Melton- 2021
Grey Meybohm - 2022
Barbara Sanders - 2023

RPAC COMMITTEE: To communicate to the membership the role of RPAC, the importance of contributing and how the funds are utilized to promote home ownership and private property rights.
Regina Wadsworth - Chairperson
Sherry Sanders - Vice Chairperson
Keith Duncan Jan Grizzaffi Matt Kelly Pam Lightsey
Henry Pruett Susan Salisbury Dennis Smith
Brittany Thomas Henry Wadsworth

YOUNG PROFESSIONAL NETWORK (YPN): To assist young-at-heart real estate professionals through connections, education, and networking events while developing new leaders.

Heather Ferrante - Chairperson
Carey Miller - Vice Chairperson
Kristi Poss Atkins Sandy Butler Gerilyn deLaurentys
Jan Grizzaffi Donna Joyner Sonia Salazar
Sherry Sanders Erin Slade Angela Sorapuru-Lopez
Brittany Thomas Chuck Tolbert
2021 GAAR Board of Directors: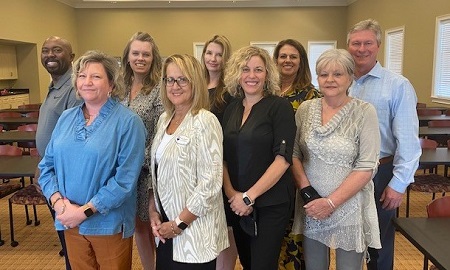 (Left to Right): Eric Crawford, Nora Grimaud, Jenny Viger, Terri Thomas, Regina Wadsworth, Julie Whitesell,
Kim Bragg, Barbara Sanders, and John Chambers (Not pictured: Tom Blanchard)
Please click here to review the GAAR 2021-2024 Strategic Plan.
GAAR Mission: Provide the education, resources, guidance and advocacy necessary to ensure our members reflect the highest professional and ethical standards within the community while promoting and protecting private property rights and home ownership.